Conrado Trivinio Limjoco - born March 1896; died 1989

Conrado Trivinio Limjoco and Encarnation Jaramiel Limjoco-b. Nov. 24, 1912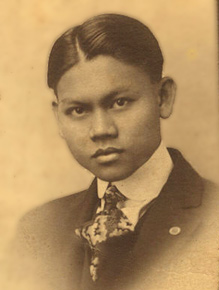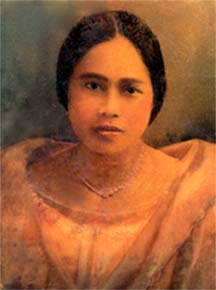 Children of CONRADO LIMJOCO and FILOMENA PEREA are:
i. ALBERTO5 LIMJOCO.
ii. TERESITA LIMJOCO.
iii. CONRADO JR. LIMJOCO
Children of CONRADO LIMJOCO and ENCARNATION JARAMIEL are:
Rosa Elna Limjoco Lucindo --- April 26, 1943 (deceased) March 1989 . Married to Jorge Lucindo
Sons & daughter:
John Oliver Lucindo --- June 11, 1972
Marie Yvonne Lucindo --- June 26, 1970
Christopher George Lucindo --- July 11, 1972
Nieves Limjoco born --- June 22, 1947
Daughters:
Maria Criselda Limjoco Saguinsin --- June 13, 1981
Maria Jelalyn Limjoco Saguinsin --- March 12, 1983
Crisoldo Limjoco - born--- July 25, 1951 (deceased) Nov. 1, 1980 .
My brother told us he prefer to die if nothing happen to his life before he reaches the age of 30. According to his wish, he was cremated and his ashes were scattered in Matabungkay beach in Batangas.

Minerva Limjoco de Leon---Oct. 20, 1953 presently living in Riverside,California with her family. Married to Norberto de Leon
Son & daughters:
Earl Patrick de Leon --- August 22, 1980
Norel Ann de Leon --- Jan. 18, 1982
Maria Pamela de Leon --- March 19, 1984
Rosendo Limjoco.--- Dec. 17, 1955 . Married to Cristina Jose
Daughters:
Anna Camille Limjoco --- May 9, 1983
Cristalle Lauren Limjoco --- July 29, 1986

| | |
| --- | --- |
| RIGHT:Conrado Limjoco, student at a university in Chicago, and a leading Filipino tennis player, in America, is shown on the right receiving the Oscar Carlstrom trophy, emblematic of the international open lawn championship of the United States from Robert M. Sweitzer, one of Chicago's influential political figures. This is the second time that Limjoco has won the title. The donor of the cup is the general attorney of Illinois.(1929) | Conrado Trivinio Limjoco, second from RIGHT, TOP row. |
THE LINCOLN TENNIS TEAM- approx. 1928
Left to right--Don Elliot,Ralph Weaverly, Conrado Limjoco & Cedric Potter

Conrado Limjoco TOP CENTER



Conrado Trivinio Limjoco, on the left. I assume this was taken at University in Chicago with a classmate. Conrado became a famous tennis champion in Chicago in those days.

Rosendo's wife Cristina Jose Limjoco

Rosendo's daughters-1999 -Cristalle and Anna Camille Limjoco

Rosendo Limjoco 1999- son of Conrado

From left to right: Mama,Cristalle,Papa,Ate Camille,at the center is Ate Yvonne, daughter of Tita Elna,with her half brother.
| | |
| --- | --- |
| | |
| | photos of Conrado sent in by his son Rosendo Limjoco via email - April 2002 |