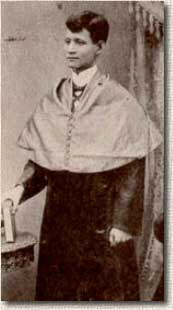 Children of Goyo and Feling
Gregorio Trivinio Limjoco Sr.
Gregorio Trivinio Limjoco Sr., was born on March 12, 1875 in Lian, Batangas, and lived there with his parents Santiago Quizon Limjoco and Hospicia Magsaysay Trivinio Limjoco, along with his 9 siblings. Later he went to Manila where he attended San Juan de Letran College, and obtained the degree of Bachelor of Arts and the title of Surveyor. He went on to continue his studies this time in medicine at the University of Sto. Tomas, but due to the Revolution he was forced to go back to Lucena to serve his country and was first lieutenant in the 1st company of battalion "Makiling" under Gen. Malvar. Many years after his death two of his sons would serve in the Bataan Death March during World War II, a sturdy stock. He resigned as 1st. Lieut., when he was 23, in Nov. of 1898, to continue his studies at the Univ. of the Philippines, Malolos where he obtained the degree of Doctor of Medicine.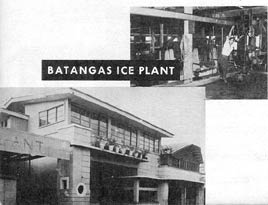 While he was still studying in at San Juan de Letran he met and befriended a young Manuel L. Quezon, (who became his steadfast lifelong friend, Godfather to his children, as well as his patient. Quezon later became the President of the Philippines. At the same university he also met and befriended a young Pablo Borbon who became Judge of the First Instance. Many years later when Quezon became president, Borbon submitted a list to him siting Lolo and his first cousin Galicano Limjoco as among those most influential men in the town of Lian. It was reported in a book published by a Jesuit priest shown on this site at Pages Out of Time. Lolo was 43 yrs. old at the time of the report. Lolo was an established doctor and business man by then. was married, and a good father to many children. He was sited as an exemplary employer and a philanthropist. But I'm ahead of the story.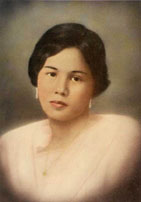 Felicidad Ochoa- Arguelles-Limjoco -died March 1, 1969
Known to me as Lola Feling She was already old when I was growing up but I used to love to fix her hair.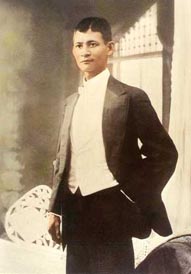 Dr. Gregorio "Goyo" Limjoco 1875-1948
He married Felicidad Ochoa Arguelles late in life on July 31, 1910, when he was 35. Already a dashing, handsome successful man, and already known by his philanthropic works. I was told by Lola Feling that he had his heart set on her when she was 15; because he asked the family for her hand when the proper length of getting to know the family was established, as was the custom of the day. The family allowed them to be betrothed after deciding, and rightly so, that he would be a suitable husband for their little daughter. He courted in the lovely and convivial setting of being with her and her family on outings to the surrounding beaches or engaged in family dinners; good food, good conversation; going pamasyal (outing) with everyone in a Kalesa which used to be a well lacquered one horse carriage, with brass night lanterns as was common in those days; around the central park or to the playa. Lola's eyes would water when she spoke of him, she so loved him. It was apparent to me that she was his little flower always, and he spoiled her utterly. They married when she was old enough at the age of 18, in the Batangas Catholic Church; it was not yet a Basilica as decreed by Pope Pious XX later in 1947. This is why this church is the common theme throughout this site. They had 12 children who are listed on the Menu bar on the left.

When Lola Feling spoke of Lolo Guyo, she would seem a girl again with the butterfly eyes, and and she would just melt again until she caught herself! Ha, ha! It was so cute. I cant blame her, when I see his pictures, I just tingle with gigil and pride that he was my Lolo. Though he passed away just a couple of months before I was born, I have lived in the home he built, handled the books he learned his trade from. I would sit beside my mom when she would be cashiering the money from the little blocks of ice people bought like that then, at the Batangas Ice Plant built by his labors. My Tita's and Tito's cousins all around me were the result of his good rearing and they would tell me of Lolo if I asked. I have always been intrigued by him. He is so real to me and this site is my way of touching the vibrant life he lived that has always made me very proud to be his apo. The extended respect and hospitality to a lot of us in those days, is a testimony to his own generosity, caring and sharing with those around him, be they rich or poor. I know a few of my elder first cousins that were around in those days feel similarly, as does Cesar Mario Limjoco, the son of Tito Cesar, Sr. He told me he had a couple of Lolo's books at one time, that were signed by Lolo Guyo and he felt the same way. And now Cesar is a doctor himself! Family threads weave through time though we know it or not.

I never knew him personally but his presence in our family was always felt. In what was left of the family home, which was destroyed during WW2 by the U.S. army corp. of Engineers, ( who by the way never monetarily reimbursed the family as was promised.) were his Physicians books stilled lined up behind glassed in shelves. I remember being so thrilled to pick them up. I loved to hold them but, Alas! They were in Spanish which I did not understand.

So easily at times do we let go of days of yore. Never taking the time to see the threads connecting them to our future, or learning from our vast compendium of experiences.

From these people we sprang and I salute them, honor them and give thanks for the life's experiences afforded me by just being the progeny of Dr. Gregorio Limjoco.