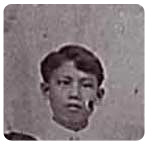 Lolo Leandro "Andoy"Trivinio Limjoco - 1880

"Here is my geneology as far as I know. You see, I grew up in Naga & Legazpi because my mother belongs to the Imperial Family of Bicol. I was only able to visit Lian, Batangas when I was in my teens, and when I was in Manila I met the relatives of my dad, Paulo "Paulito Acquino Limjoco of Lian, who married my mother Encarnite Imperial in 1929.

My Grandfather is Aleandro "Andoy" Trivinio Limjoco of Lian, Batangas and Ragay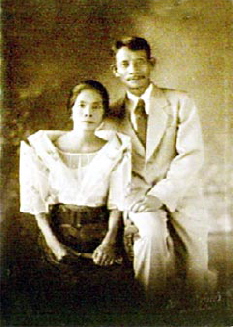 Camarines Sur" the progeny of Dr. Gregorio Limjoco.


LEANDRO LIMJOCO (SANTIAGO , Raymundo1,) was born 1880 in Lian Batangas. He married (1) Bernabela AQUINO-LIMJOCO. She was born inLian, Batangas. He had a second family with (2) Antonia Aquino.
Children of ALEANDRO Limjoco and Bernabela Aquino
Limjoco are:
33. i. JOSE A6 LIMJOCO, b. Lian Batangas.
ii. LOLITA LIMJOCO, m. MARIANO ANTARAN.
34. iii. PAULO LIMJOCO.
iv. FELIX LIMJOCO.
v. PEDRO LIMJOCO, m. MARTA MELO.
vi. ELVIRA LIMJOCO.
vii. POMPEYO LIMJOCO, m. ADELINA REYES; b. Minalabac, Camarines Sur.
viii. NINI LIMJOCO.
ix. LAURO LIMJOCO.


above lineage Supplied via E-mail by Zenny Limjoco Cruz, now residing in the Bay Area.




Click here to download the Full Decendant text of Aleandro Limjoco
Photo of Lolo Andoy and Bernabela "Lola Belang"sent in by Jose Jr. L de Mesavia email 10-01-2002
"Lolo Andoy went to the Ateneo de Manila located then in 1896 in Intramuros, Manila. Also studying there was Lolo Canong (Galicano, son of Hilarion, Santiago, Raymundo). Sometime in 1896, Lolo Hilarion went to Manila to fetch both Lolo Andoy and Lolo Canong. Lolo Andoy did not want to go as he was waiting for Christmas. It seemed that Christmas time in Ateneo then was full of fun. Lolo Hilarion insisted as hostilities between the Spanish authorities and Filipino subjects were starting.

When they arrive in Nasugbu, Batangas, Lolo Andoy was soon commissioned in the infantry with rank of Lieutenant as he had some experience while in Ateneo (probably like ROTC). He was sent to fight in Masbate, an island off the coast of Sorsogon. And also in Sorsogon itself. Probably due to victories against the Spaniards, Lolo Andoy was promoted to Captain. The rank he held until the surrender of the revolutionary army of Gen. Aguinaldo to the Americans. Perhaps you can access the US military archives for the
units that fought here during that time.

The photo on the left is a certificate that was issued on 22 December 1922 signed by no less than Emilio Aguinaldo as President of the "Veteranos de la Revolucion" in favor of Capitan de Infanteria Sr. LEANDRO LIMJOCO.

He was already a captain when he was assigned to Aklan, one of three provinces located on the island of Panay. (This island is significant in Philippine History because of the story of the Ten Bornean Datus who migrated to the Philippines specifically Panay). It was here that he met Filomena Hontiveros.

Filomena Hontiveros was the daughter of Genoveva Hontiveros and Leon Miraflores, who happened to be a priest. This could partly explain why she was carrying the Hontiveros name instead of Miraflores. However, the priest fathered another child by another woman. A boy who was named Leon Miraflores, Jr. Why the priest consented to have the boy use the Miraflores surname and also made the boy Leon Jr. Probably, the Hontiveros family, who was landed, did not like the idea of a priest fathering a child by an Hontiveros woman. Perhaps, this was how things were in those times.

That being her lineage, Filomena Hontiveros was a lovely woman. Our own Lolo Andoy was still single then and a dashing Captain of the Infantry. He must have presented himself rather very well, sitting on a horse, with mustache, uniform and a booming voice as he commanded the troops on parade. And so they became sweethearts. There was no reference that the priest objected to the relationship. It is possible that the priest liked the Captain as he could also probably speak in Latin. How the priest must have enjoyed conversations with Lolo Andoy.

The defeat of the army of Aguinaldo by the Americans caused the unceremonious transfer of Lolo Andoy to Batangas as he did not want to serve in the American army then.

While in Batangas, Leon Miraflores, Jr. met with Lolo Andoy to inform him that Filomena Hontiveros is pregnant and that he should go back with him (Leon) so that Lolo Andoy could marry Filomena. Lolo Andoy agreed but asked Leon to allow him to bring the medicine that he bought for her sister Casimira. Casimira was in labor then and has difficulty in giving birth. Leon disagreed and an argument ensued resulting in Lolo Andoy proceeding to Casimira. Because of this misunderstanding, Lolo Andoy did not go to Aklan to acknowledge his child. Years later, Lolo Andoy surmised that Leon did that (argument – quarrel) on purpose so that Lolo Andoy will have not go to Aklan thereby leaving Leon Jr. in his father's good side.

To hide the pregnancy, Filomena was sent to the latian – the countryside or farm or boondocks wherever few could see her in her condition then. After giving birth, Filomena or Mimay came back to the town as if nothing happened. To further hide the poor child's identity, her Lola Vivay (nickname of Genoveva) asked her son-in-law Amando Francisco to make it appear that the child was his niece. Amando agreed and made it appear that the child was the daughter of his brother. Thus, the child was named Dolores Francisco. She was sent to Manila when she was five years old to study. She went to school together with her cousin her age.

Some years later, Dolores returned to Aklan. Shortly thereafter, she met one of the trusted farm hands probably one who is called 'encargado' or administrator. He said "Dumating ka na pala galing Maynila. Ikaw ang anak ni Capitan Limjoco. Sulatan mo ang Tatay mo sa Lian, Batangas." Dolores did write Lolo Andoy, who was then married to Lola Belang. She was nineteen years old then. Lolo Andoy replied and later corresponded with her. Lola Belang would send her woven cloth, blankets, etc. Her mother Mimay found out and ordered the interception of letters from Batangas.

Father and daughter finally met in 1937 when Dolores was already 37 years old, married to Juliano "Yanong" Antaran and with six children.

This, more or less, is the story of the eldest child of Leandro Limjoco as narrated to me by Tia Elvira Aquino Limjoco.

Still, the best source of this story would be the children of Dolores "Lolita" Limjoco Antaran especially Ate Emily Antaran and any of her children now residing there in the US – Dimna, Solenda "Inday", Azucena "Diding" & Raquel "Dodoy". If you have their emails, I would appreciate if you can let me have them as well as other Limjocos of the Leandro Aquino Limjoco branch for starter.

I am inspired by what you have done and glad that you did it. It must fun finding all those relatives never heard of before. Perhaps just the act of discovering them is the reward itself for a job well done."

"I believe that officially Lolo Andoy was married to Bernabela. Some time after the death of Lola Belang, Lolo Andoy told his children that he would like to marry again. His elder sons convinced him to marry Antonia the younger sister of Bernabela. This would ensure that the children's welfare would be maintained and Antonia would continue to love the children. And so, Lolo Andoy took Antonia for his second wife."

sent in by Jose Jr. L de Mesa (note Jojo if you see this I have lost your current email address from a crash of my pc. Diana)